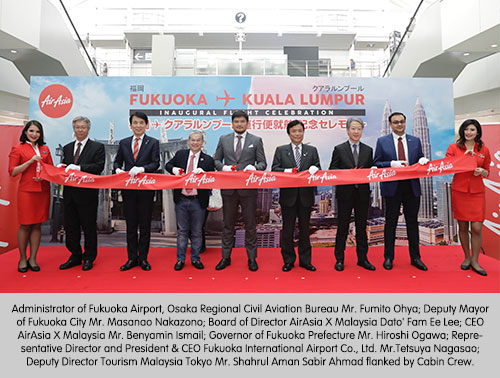 Fukuoka, 1st March 2019 – Fukuoka joins AirAsia as its first long-haul destination on Japan's southernmost island, Kyushu, making AirAsia the only operational direct service to it from Kuala Lumpur. Fukuoka Prefecture Governor Hiroshi Ogawa, Fukuoka City Deputy Mayor Masanao Nakazono, Administrator of Fukuoka Airport, Osaka Regional Civil Aviation Bureau Fumito Ohya, and Fukuoka International Airport Company Co., Ltd. Representative Director and President & CEO Tetsuya Nagasao welcomed AirAsia Flight D7 538 at Fukuoka Airport.
AirAsia will operate four times weekly between Kuala Lumpur and Fukuoka. Over 156,000 seats will be available annually, providing guests with low-cost travel options to Fukuoka. To celebrate, AirAsia is offering promotional fare prices, Bonus BIG Points, and tourism package discounts from now until 9th March 2019, for travel through 28th October 2019.
AirAsia X Malaysia CEO Benyamin Ismail thanked their Japanese government partners and authorities for their cooperation. He stated that the route would boost the local economy, and that it signifies AirAsia's commitment to accelerating their growth in Japan.
Since their Japanese launch in 2010, AirAsia currently operates close to 110 weekly flights on 12 international and domestic routes across Japan from Kuala Lumpur, Bangkok, and Taipei, flying more than 6.5 million passengers between Malaysia and Japan.