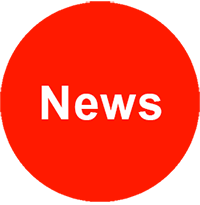 Latest News
AirAsia Foundation Organises Book Drive For Shelter Children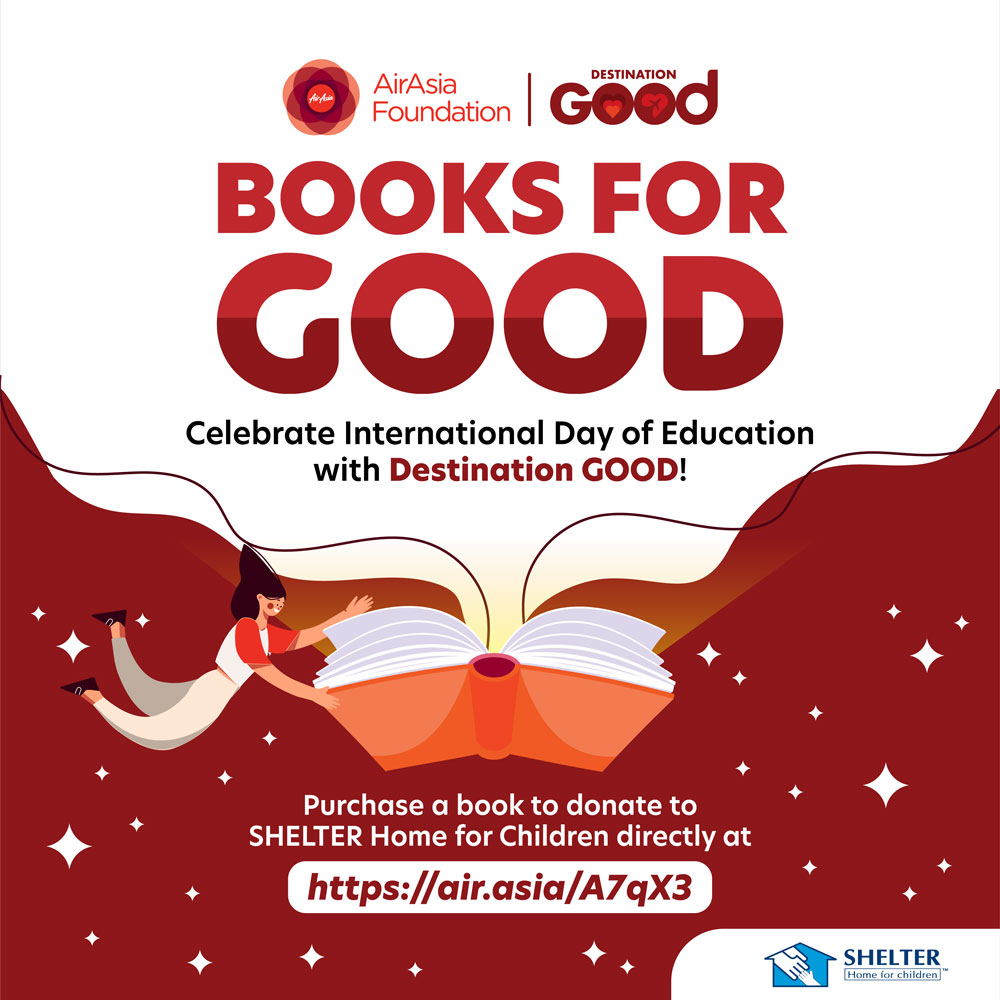 Sepang, 24th January 2021 – In conjunction with International Day of Education, AirAsia Foundation launched 'Books for Good', a two-week book donation drive for the SHELTER Home for Children which cares for underprivileged children aged four to twelve.
Donors are invited to purchase local children's titles with themes of culture and nature at RM25.00 each from DestinationGOOD.com, AirAsia Foundation's social enterprise retail outlet, to benefit both the recipients and also Malaysian authors and illustrators. This outlet retails over 400 responsibly and ethically produced goods from over 50 social enterprises in Asean.
Yap Mun Ching, Executive Director of AirAsia Foundation, said the drive was organised to support children care homes and those unable to attend school by supplying shelters with education resources. She expressed hope that there would be plenty of donations, and that the donations would teach the children to love nature and Malaysia's diversity.
Santan Celebrates Anniversary With Major Milestones
Kuala Lumpur, 3rd December 2020 – Santan, the world's first restaurant brand to offer inflight food on the ground, celebrated its first anniversary with major milestones.
Since the Conditional Movement Control Order's implementation, Santan's delivery service saw 80% growth and over 385,000 total meals sold throughout the year. Santan's milestones since being awarded their official franchise certificate in September include establishing five new outlets in the Klang Valley (excluding Mid Valley and Sunway Pyramid) with two more set to open before the end of 2020, plus three cloud kitchens established in Cheras, Shah Alam and Sri Kembangan.
Santan has also contributed to local communities and SMEs in the Buy Malaysian Products campaign. Santan provides local job opportunities, launches F&B industry careers, and launched 'Santan Food' in September while rebranding T&Co to Santan Cafe in October to feature local products. They have also collaborated with the Food Aid Foundation to feed the needy.
Catherine Goh, General Manager of Santan, reflected that the year was challenging but rewarding with growth for Santan, thanking all employees of the Santan team and their customers for their support.
To commemorate the anniversary, they partnered with local lifestyle artisan, Bingka, to produce handmade Santan-themed merchandise made by local communities.
Teleport Partners With Alibaba Logistics Arm Cainiao
Shenzhen, 12th November 2020 – Teleport, AirAsia's logistics tech venture, partnered with Cainiao, Alibaba's logistics arm, delivering cross-border orders on Tmall Taobao, Alibaba's e-commerce platform.
This partnership will provide end-to-end delivery in under 24 hours, starting from Shenzhen and Canton in China to Kota Kinabalu, Sabah. The initial flight departed on 11 November 2020, the date of the major sales event 11.11 or Double 11.
Pete Chareonwongsak, CEO of Teleport, considered this partnership an appropriate continuation of their partnership with Cainiao in deliveries from China to East Malaysia and Southeast Asia, making use of Teleport's technology integration and AirAsia's regional network.
Kenny Wu, Director for Tmall Export Line Haul Logistics at Cianiao, characterised this partnership as continued investment in the region which will streamline customs clearance and improve freight stability. Their goal is to develop business through eCommerce and cross-border trade with the goal of delivering globally within 72 hours.
AirAsia and Tune Hotel KLIA win at World Travel Awards 2020
Malaysia, 3rd November 2020 – AirAsia won Asia's Leading Low-Cost Airline for the eighth consecutive year at the prestigious World Travel Awards which commemorates excellence in travel, tourism and hospitality and is a hallmark of travel industry excellence.
AirAsia received the highest votes from travel professionals and industry players from the region, ahead of competitors like Scoot, Nok Air, VietJet Air, Jetstar and Firefly, to win the low-cost carrier awards of Asia's Leading Low-Cost Airline 2020 and Asia's Leading Low-Cost Airline Cabin Crew 2020.
Tony Fernandes, CEO of AirAsia Group, was humbled and honoured by receiving the awards, and expressed gratitude to AirAsia's over 600 million guests for their continued support even during recent difficult times. He also dedicated the award to AirAsia's Allstars for their committed service.
Suhaila Hassan, AirAsia Group Head of Cabin Crew, stated that the award was a testament to the hard work of AirAsia's staff in facing a difficult period and continuing to provide excellent service while safeguarding the health and safety of guests.
Graham E Cooke, World Travel Awards Founder, expressed delight that AirAsia's efforts and innovations in low-cost aviation in Asia were recognised by the industry and the public in receiving the awards.
Tune Hotel KLIA-KLIA2, part of the Ormond Group, was declared Asia's Airport Hotel 2020 for the second straight year at the World Travel Awards, winning over competitors like South Korea's Grand Hyatt Incheon and 6-time winner Hong Kong Marriott Airport Hotel.
Gareth Lim, Ormond Group CEO, expressed pride in the team's efforts despite the difficult year for the hospitality industry. This matches the international accolades of The Chow Kit for design and service as well as the #1 Tripadvisor ranking of Tune Hotel Kota Kinabalu and Danga Bay, also Ormond Group hotels.
To celebrate the award, Tune Hotels KLIA-KLIA2 will be offering a package with promotional rates on rooms and services over the next twelve months, including rooms from as low as RM180 per night, a 20% discount on F&B offerings and space-available upgrades to premium room categories.
OURFARM and IKHLAS Help 220 B40 Families Celebrate Deepavali
Kuala Lumpur, 4th November 2020 – OURFARM, airasia Digital's business-to-business agriculture e-commerce platform, and IKHLAS, airasia.com's Muslim-friendly line of business, cooperated to help 220 B40 families to celebrate Deepavali through Project #Food4B40 in the spirit of the holiday.
This collaboration between OURFARM, IKHLAS, and other social enterprises was coordinated by Masala Wheels and supported by Yayasan Hasanah, a foundation under Khazanah Nasional. Over 500kg of fresh vegetables and 220 food packs were distributed to B40 families at People's Housing Projects in PPR Laksamana, PPR Batu Muda, PPR Kepong, PPR Jinjang, and Pangsapuri Melati Bukit Subang in Klang Valley.
Lalitha Sivanaser, CEO of OURFARM, expressed their happiness in helping these families celebrate Deepavali, in keeping with OURFARM's objectives to assist local farmers and agriculture producers during the pandemic. She thanked IKHLAS and their other collaborators, such as Masala Wheels and Drop & Wash, and hoped to support further initiatives. This was also in line with their support towards ESG (Environmental Social and Corporate Governance), under which they have supplied fresh produce to Masala Wheels to feed and empower communities.
Ikhlas Kamarudin, Head of IKHLAS, expressed how they were humbled by being able to deliver charity regardless of race or background, matching the IKHLAS philosophy. This initiative adds to other past and future donation drives of IKHLAS, assisting over 15,000 families nationwide since April 2020 with more contributions to come in hard-hit communities in Sabah and more.
airasia.com Launches airasia Health Medical Services Platform
Kuala Lumpur, 2nd November 2020 – The Asean super app, airasia.com, launched airasia Health, a first-of-its-kind digital platform in Asean offering end-to-end medical services.
airasia Health partners with reputable medical providers and hospitals to offer a complete range of services including consultations, booking treatments such as health screenings, aesthetics, wellness and fertility sessions, and on-ground logistics services like flights, accommodation, and support services like medical visa and medical companion.
Its medical partners include Alpha IVF & Women's Specialists, Beverly Wilshire Medical Centre, Sunway Medical Centre, Genesis IVF & Women's Specialist Centre, Sunway TCM Centre, Pure Touch Clinic and many more, as well as supported by an advisory panel of industry experts that include Datuk Dr Kuljit Singh, President of Association of Private Hospitals of Malaysia (APHM) and Dato' Dr Colin Lee, Consultant Gynaecologist and Fertility Specialist, among others.
Karen Chan, CEO of airasia.com, stated that the airasia Health online platform was made to facilitate access to healthcare for everyone. She also commented that airasia Health is where healthcare meets travel, encompassing travel logistics such as flights, accommodation and mobility options to enhance the convenience for medical travellers. To kickstart the launch, airasia Health is making available bookings for Covid-19 RT PCR tests on the platform, with services provided by Lifecare Diagnostic Medical Centre and Sunway Medical Centre. For more information, please visit airasia.com/health.
Teleport Offers Delivery To Businesses Of All Sizes
Kuala Lumpur, 5th October 2020 – AirAsia Digital's logistics venture, Teleport, is now offering fast, simple and accessible delivery to businesses of all sizes.
Improving on the business delivery of previous generations which previously prioritised bigger businesses, Teleport will offer clear pricing of everything required from pick up, lift off, to drop off, and the best rates for all their customers.
These orders are automatically integrated with just a few lines of code, and are enabled by AirAsia's planes and Teleport's team of community delivery partners. Delivery offers flat rates which are simple and easy to understand for all businesses no matter the size, starting from as low as RM6.
Pete Chareonwongsak, Teleport CEO, expressed their ambition to improve parcel delivery with the goal of 24-hour door-to-door delivery anywhere in Southeast Asia, starting with businesses wishing to deliver parcels, packages or goods across major cities in Malaysia.
He stated their hope to enable small and medium sized businesses to grow in the digital economy by offering the same flat rate prices and delivery experience, regardless of business size and order volume. He also expressed pride in their community delivery customers for making fast, stylish deliveries possible.
Teleport invites all businesses and interested delivery partners to visit http://www.teleport.asia or sign up at https://www.teleport.asia/start-now for fast delivery or on how to become a part of their delivery community.
AirAsia Digital and Google Launch Redbeat Academy
Kuala Lumpur, 1st October 2020 – AirAsia Digital partnered with Google to launch Redbeat Academy to the public.
YB Khairy Jamaluddin, Minister of Sciene, Technology and Innovation, and Datuk Ir. Dr. Siti Hamisah binti Tapsir, Secretary General of Ministry of Science, Technology and Innovation launched the Academy with Datuk Kamarudin Meranun, Executive Chairman of AirAsia Group, Tan Sri Tony Fernandes, CEO of AirAsia Group, Aireen Omar, President (AirAsia Digital) of AirAsia Group, and Marc Woo, Country Head of Google Malaysia.
Redbeat Academy was set up to cross-train AirAsia Allstars in tech workshops covering Artificial Intelligence, Machine Learning, Software Engineering, Cybersecurity, Big Data and Infrastructure, and more, and is now available to the public as a one-stop service in tech, leadership and innovation. This is part of their objective to build a future-ready generation that will be a catalyst for the digital economy in Malaysia and the wider Asean.
YB Khairy Jamaluddin, Minister of Science, Technology and Innovation expressed pride in being able to launch Redbeat Academy, stating alignment with the National Technology and innovation Sandbox initiative's aim to develop Malaysia as a high-tech, high-income nation.
Tan Sri Tony Fernandes, CEO of AirAsia Group, expressed pride in opening Redbeat Academy to the public and in their collaboration with Google in sharing resources and knowledge. Rochana Golani, Director of Google Cloud Learning Services, looked forward to cooperating with Redbeat Academy to train future cloud technology professionals in Malaysia.
Redbeat Academy has recently graduated 135 AirAsia Allstars, retrained talents with the Malaysian Industry-Government Group of High Technology, and partnered with Universiti Teknologi Malaysia, Universiti Malaya, and Asia School of Business in collaboration with MIT Sloan Management to award a micro-credential to Redbeat Academy courses, acknowledging it as part of the Accreditation of Prior Experiential Learning.