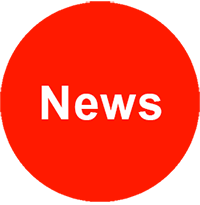 Latest News
Tune Hotel klia2 Is Asia's Best Airport Hotel 2019
Kuala Lumpur, Phu Quoc, 12th October 2019 – Tune Hotel klia2, which is part of the Ormond Group, won the "Asia's Leading Airport Hotel 2019" award at the 2019 World Travel Awards™ held in Phu Quoc, Vietnam, recognised globally as a hallmark of travel, tourism and hospitality industry excellence.
It won the award over other respected international hotel groups including South Korea's Grand Hyatt Incheon and the Hong Kong Marriott Airport Hotel, the former 6-time champion. Additionally, Tune Hotel klia2 was nominated in the "World's Leading Airport Hotel 2019" category alongside international brands like Hilton London Heathrow Airport, Millennium Airport Hotel Dubai and Parkroyal Melbourne Airport.
Tune Hotels CEO Navin Singh stated that the award validated their goal to make airport hotels more than a functional space, and was thankful and humbled that their efforts were recognised by guests who voted for them.
Tune Hotel klia2 replicates the brand's new approach to guest experience. Its rejuvenation started in February 2017 with the introduction of new premium rooms and all-day dining restaurant, MAKAN. It was complemented by MINUM sports bar, a chic minimalist spa – REHAT, and a bodega style Grab & Go. To give the hotel a sense of place, artwork from Malaysian and regional artists, on loan from private collections, hang on its walls.  All of this connects to a 24/7 open-air courtyard perfect for transit travelers frequenting the KLIA and klia2 Terminals. Specifically, for transit travelers, Tune Hotel klia2 has created various packages which include a VIP Fast Track Pass. Tune Hotel klia2 is a certified green building highlighting our commitment to sustainable building design and operations.
Ormond Group CEO, Gareth Lim said that since its inception, the Tune Hotels experience has always been based on 5 key promises to its guests: free high-speed wifi, super comfy beds, hot power showers, clean rooms and 24 hour security. The experience at Tune Hotel klia2 has been elevated by introducing great design and guest experience to appeal to even the most discerning of global travelers.
Teleport and Gobi invest US$10.6M in EasyParcel to grow Asean social and e-commerce
Kuala Lumpur, 16th July 2019 – Teleport, AirAsia's rebranded cargo and logistics platform, and leading venture capital firm Gobi Partners invested US$10.6M in regional e-commerce and parcel delivery player, EasyParcel.
EasyParcel will use the funding to expand offerings for SME customers, leveraging Teleport's logistics and infrastructure capabilities across over 100 cities, 10,000 weekly AirAsia flights, and 1,000,000+ tonnes of cargo capacity. This will enhance their mission to address last-mile delivery challenges.
Tony Fernandes, CEO of AirAsia Group, and Pete Chareonwongsak, CEO of Teleport, stated the potential of collaborating with the startup community and using AirAsia's logistics in making the Asean social and e-commerce ecosystem more accessible for people, especially SMEs. They and Thomas G Tsao, Gobi Partners Chairman and Founding Partner, expressed their pride in co-investing into EasyParcel, citing their potential to develop and streamline e-commerce in the entire region for customers using logistics services, which will further benefit existing logistics investments such as Deliveree and Zoom. Clarence Leong, EasyParcel Founder and CEO, voiced his gratitude for the collaboration of the investors in their Series B.
The investments were funded by Teleport's retained earnings and Gobi Partner's Meranti Asean Growth Fund.
AirAsia wins 11th consecutive World's Best Low-Cost Airline award at Skytrax
Le Bourget, 18th June 2019 – AirAsia won World's Best Low-Cost Airline for the 11th consecutive year at the Skytrax World Airline Awards 2019, a global benchmark of airline excellence. They were also awarded Asia's Best Low-Cost Airline and World's Best Low-Cost Airline Premium Cabin for their Premium Flatbed, available on widebody long-haul AirAsia X aircraft.
They accepted the awards at the Paris International Air Show. The results were decided by a survey of 21.65 million customers of 100 nationalities reviewing over 300 airlines.
AirAsia Group Berhad Executive Chairman Datuk Kamarudin Meranun expressed that it was an honour to be recognised for providing low-cost travel through direct feedback and thanked the team for their commitment and service.
AirAsia X Berhad Chairman Tan Sri Rafidah Aziz also thanked their team of Allstars and announced that AirAsia intends to introduce the Airbus A330neo to provide better inflight comfort to their customers.
RedCargo and GD Express Announce New Regional Partnership
Sepang, 29th March 2019 – RedCargo Logistics, AirAsia's cargo and logistics platform, announced their new strategic partnership with GD Express (GDEX), Malaysia's leading express delivery provider, which begins on 1 April 2019.
GDEX customers will have access to AirAsia's extensive network of over 5,000 weekly flights across Asia Pacific for more efficient deliveries. To build their customer base, RedCargo Logistics will be given opportunities to explore last-mile capabilities.
RedCargo Logistics CEO Pete Chareonwongsak stated their intention to align with partners to promote regional e-commerce growth, and thanked the GDEX team for their cooperation in capitalising on this opportunity as a homegrown Malaysian brand and for their confidence in RedCargo Logistics.
GDEX CEO Teong Teck Lean was proud of the opportunity to work with RedCargo Logistics to improve connectivity with their focus on customer satisfaction and flexibility. He thanked RedCargo Logistics for partnering with them to serve the community, and expressed GDEX's ambition to become one of the ASEAN region's foremost express companies.
AirAsia Touches Down in Fukuoka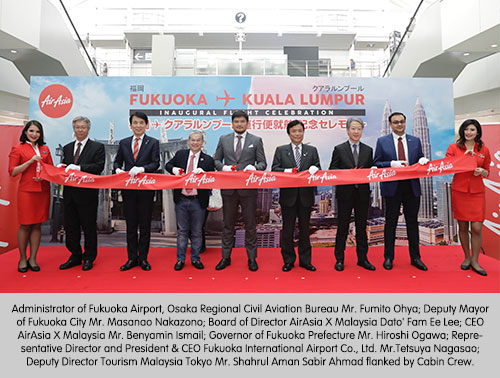 Fukuoka, 1st March 2019 – Fukuoka joins AirAsia as its first long-haul destination on Japan's southernmost island, Kyushu, making AirAsia the only operational direct service to it from Kuala Lumpur. Fukuoka Prefecture Governor Hiroshi Ogawa, Fukuoka City Deputy Mayor Masanao Nakazono, Administrator of Fukuoka Airport, Osaka Regional Civil Aviation Bureau Fumito Ohya, and Fukuoka International Airport Company Co., Ltd. Representative Director and President & CEO Tetsuya Nagasao welcomed AirAsia Flight D7 538 at Fukuoka Airport.
AirAsia will operate four times weekly between Kuala Lumpur and Fukuoka. Over 156,000 seats will be available annually, providing guests with low-cost travel options to Fukuoka. To celebrate, AirAsia is offering promotional fare prices, Bonus BIG Points, and tourism package discounts from now until 9th March 2019, for travel through 28th October 2019.
AirAsia X Malaysia CEO Benyamin Ismail thanked their Japanese government partners and authorities for their cooperation. He stated that the route would boost the local economy, and that it signifies AirAsia's commitment to accelerating their growth in Japan.
Since their Japanese launch in 2010, AirAsia currently operates close to 110 weekly flights on 12 international and domestic routes across Japan from Kuala Lumpur, Bangkok, and Taipei, flying more than 6.5 million passengers between Malaysia and Japan.
AirAsia upgrading reservation systems
Sepang, 11th February 2019 – AirAsia upgraded its Navitaire New Skies reservation system as part of its continuous effort to provide guests with an enhanced online experience.
The upgrade period lasted from 2:00pm (GMT +0800) on Saturday, 16 February 2019 to 3:00am (GMT +0800) on Sunday, 17 February 2019.
During that time, flight booking was unavailable on airasia.com, the AirAsia mobile app, and at AirAsia sales offices, counters and call centres. Guests were unable to perform self-check in via the web, mobile app, and airport kiosks or to manage their bookings until the upgrade is completed.
To avoid any inconvenience, guests flying during that period were encouraged to be at the airport at least 3 hours before their flight with printed out boarding passes or the E-Boarding pass where available, and to check-in online ahead of the upgrade period. Web and mobile check-in are available from 14 days prior to departure for all AirAsia and AirAsia X flights.
Lombok Set for Growth as AirAsia Intends to Develop New Hub
Jakarta, 25th January 2019 – AirAsia confirmed their intention to develop their newest hub in Indonesia's West Nusa Tenggara province, promising growth for Lombok's tourism industry. Two Airbus A320 aircraft will be based in Lombok, with plans to double existing frequency to Kuala Lumpur in Malaysia as well as to operate services to Perth, Yogyakarta and Bali.
Following post-earthquake recovery discussions, this will help the Indonesian Government's sustainable tourism agenda to develop "10 New Balis." As part of their commitment to the communities of West Nusa Tenggara, AirAsia is also in discussions to develop sustainable tourism initiatives.
According to AirAsia Group CEO Tony Fernandes, this new development will help to support the post-earthquake recovery of local communities and develop the local tourism industry. AirAsia Indonesia CEO Dendy Kurniawan concurred, stating that Lombok is an idyllic holiday destination rich with potential, and that AirAsia intends to cooperate with the tourism industry to drive greater demand for Lombok as a destination.
AirAsia commenced international services from Kuala Lumpur to Lombok in October 2012, and currently operates 7 return flights per week between Kuala Lumpur and Lombok.
AirAsia Abolishes KLIA2 Fee to Keep Fares Low
Sepang, 7th January 2019 – Starting today, AirAsia will abolish the RM3 KLIA2 fee for all flights departing from Kuala Lumpur International Airport 2 (KLIA2).
The fee was introduced in May 2014 to cover additional costs created by mandatory facilities imposed by Malaysia Airports Holdings Berhad (MAHB) at KLIA2. This included aerobridges and SITA check-in and boarding systems, compared to the Low-Cost Carrier Terminal (LCCT) previously. This decision followed AirAsia's announcement last week.